The Full Moon is the energetic peak of the lunar cycle. Since the New Moon this energy has been building and intensifying to this moment.
At the New Moon we set our intentions and were clear on what we wanted to manifest. Now we do the work required to make the magick happen.
Each Full Moon gives us a different energy to work with depending on which sign of the zodiac it falls. This month we are the sign of Scorpio, not known for its tact or ease, it could be a rough ride. But just remember that this journey was never meant to be smooth sailing.
This full moon is also a seasonal BLUE MOON and for added special effects the Moon is VOID OF COURSE as it becomes full. I go into this in more detail inside the Magickal Moon Club.
If you would like to work with the Scorpio Full Moon I have a 14 page guide and workbook with exclusive tarot/oracle card spread available to members of the Magickal Moon Club.
The Flower Moon
Each of the Full Moon's have a name and these can be different depending on where in the world you live. The Flower Moon is the May Full Moon and it is also known as the
Hare Moon, Frogs Return Moon, Planing Moon, Merry or Dyad Moon, Bright Moon
Full Moon Energy
There is an energy associated with the Full Moon's and I've put together a free guide for you outlining the energies of the Full Moon's of 2019. You can grab this as part of my FREE Moon Bundle by clicking the link below.
The May Full Moon is all about INTUITION as this Full Moon energy is now in the full flow of creation.
How Does a Full Moon Make you Feel?
I was born near a Full Moon which means I love this energy, although it can make me a little hyperactive. Saying that, I do find that I go the other way if it's a Lunar Eclipse and I just can't move.
How does a Full Moon make you feel?
What Phase was the Moon in When you were Born?
Finding out what phase the Moon was in when you were born can explain a lot about how you react to the Full Moon. Check out the below link to find our what the Moon was doing at your moment of birth.
https://www.astrocal.co.uk/find-out-your-moon-phase/
The Power of a Full Moon
A full moon occurs when the Sun and the Moon are opposite each other and we see the full illuminated surface of the Moon in the sky. The Full Moon is not only shining a light on the planet but in the deepest corners of our own lives.

Full Moon's can be an emotional time as things that were once hidden come to the surface. This is also a time when many people are more sensitive than usual or even more susceptible to the energy of the Moon generating unusual behaviours.

The Full Moon in the cycle represents a time of completion and I recommend your focus is now applied to completing projects you've already started and tying up loose ends. This is also a brilliant time to look back and celebrate how far you have come.

The next phase we enter into is the Disseminating (Waning Gibbous) Moon which is 3.5 days after the Full Moon and this is when we release and let go. Now you may currently practice releasing on a Full Moon, and if this works for you then that's great however I follow the traditional practice of witches.
When is the May Full Moon?
For me in the UK the May Full Moon in Scorpio is on 18th May at 22:11.
Find out the exact date and time for where you are click below
https://www.timeanddate.com/moon/phases or check out the list of time zones below.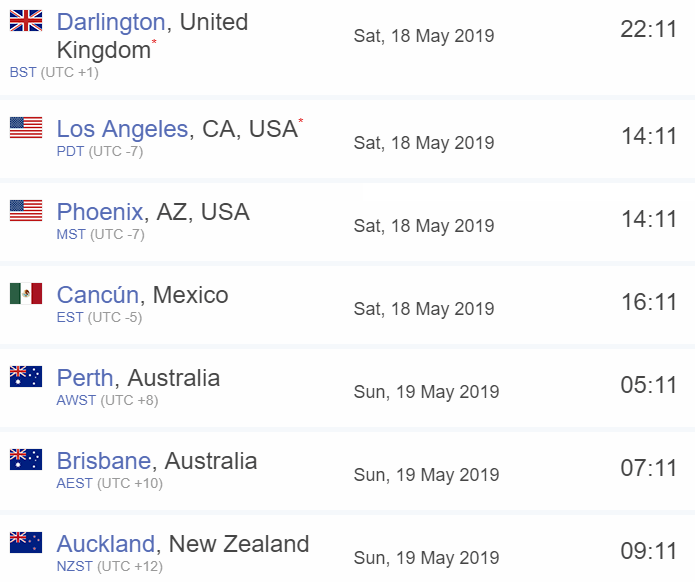 Working with the Full Moon
Visibility: 100%
Duration: 14 days – 17.5 days after New Moon
Keywords: Completion, Harvest, Results, Gratitude, Forgiveness
The Full Moon represents a time of completion, so focus on tying up those loose ends, finishing projects and completing spells.

During the time of the Full Moon, everything is at its maximum. This includes emotions, psychic energy, physiological activity. You may experience increased creativity, ideas and desires.

This is the time where you can benefit from:
Finishing projects
Bringing deals to a close
Preparing to release what no longer serves (3 days after the Full Moon)
Closing, cleansing and clearing
Reflecting on accomplishments so far
Journaling – Inside this months Magickal Moon Club I've included some great journaling prompts for you to explore
Divination – Inside this month's Magickal Moon Club you will find my exclusive Attract Your Worth Tarot and Oracle Card Spread to work with during this phase.
What Does it Mean when the Full Moon is in Scorpio?
There is no getting around the fact that the Scorpio Full Moon is emotionally intense but if we choose to work with the energy the transformative results are there for us.
We are absolutely going to feel this Full Moon so allow for that. Give yourself time to reset and recharge where needed. And also understand that others are experiencing these energies too.
Sign Element: Water
Ruling Planet: Mars, Pluto
Quality: Fixed
This moon sign is good for: Destroying things which block progress. Uncovering secrets. Investigating mysteries. Dealing with politics and financial activities
This moon sign is not good for: Balance and harmony. Anything which can bring negative emotions to the surface. Heated debates, meetings or confrontations.
The Magickal Moon Club Full Moon Guide
Inside the Magickal Moon Club right now you will find a 14 page Full Moon Guide and workbook packed full of information to support the energy of this Full Moon in Libra including:
Intuitive Introduction
The Full Moon in Scorpio
Astrological Aspects During this Full Moon
Things to consider during the full moon cycle
Magickal Correspondences
The Full Moon vibe
The influence of Scorpio
What to do on a Scorpio Full Moon
How does the Full Moon make you feel?
Full Moon Gratitude
Full Moon Forgiveness
Full Moon journaling
Taking the Sting Out of the Tail Tarot and Oracle Card Spread
Full Moon Forgiveness Ritual