Wishing Tree Creative Tutorial
How to Create a New Moon Wishing Tree
W e are all stretched for time these days and I find that a great way to carve out some time to get creative is to tackle a small but satisfying project such as this New Moon Wishing Tree.
During this tutorial we are going to explore a super creative way of setting your New Moon wishes. I'm going to guide you step by step through crafting a New Moon Wishing Tree with little leafy wishes. And what's great about this class is that you can do it each and every new moon!
YouTube Tutorial Video
Follow me step by step in this 30 minute video!
NOTE : If you scroll down you will find step by step images of one of my new moon wishing tree creations!
What do you need?
I've tried to keep the supplies list as small as possible and I encourage you to find things that you already have in the house such as wrapping paper, magazine cuttings, or craft paper. 
Supplies list:
A piece of A4 card or thick paper for the background 
Glue stick
Pens for decorating – I like to use gold and white gel pens 
Ruler
Scissors 
Scraps of paper such as brown paper, wrapping paper, wallpaper or magazine cuttings.
I have also created a printable for the images and text to make things so much easier too.
For a copy of the printable and a full supplies list just enter your details into the box below and an email will be on it's way to you.
PLEASE NOTE: The first email you get will ask you to confirm that you want to hear from me, once you okay that one your supplies list, printable and event reminder will be on it's way.
Let's get started!
1. Choose your background paper
Pick any colour or any size. It doesn't even have to be plain as you can collage the whole thing. My preference is A5 size (half A4) you can use normal printer paper folded in half and glued together for added strength and thickness. Also, if like me your a fan of Amazon, then I'm sure you've got some cardboard envelopes in the recycling, these also make great backgrounds for collage.
2. Grab your printable and cut out the shapes
3. Find paper for crafting
I keep hold of everything from wrapping paper to the silver or gold wrappers on posh chocolate bars! It always comes in handy. Also magazine cuttings make great crafting inspiration too!
4. Create the background
Here I am using the vintage astronomy page from the printable and tearing it to create two corners.
Here I've created backgrounds for the back and front of the wishing tree.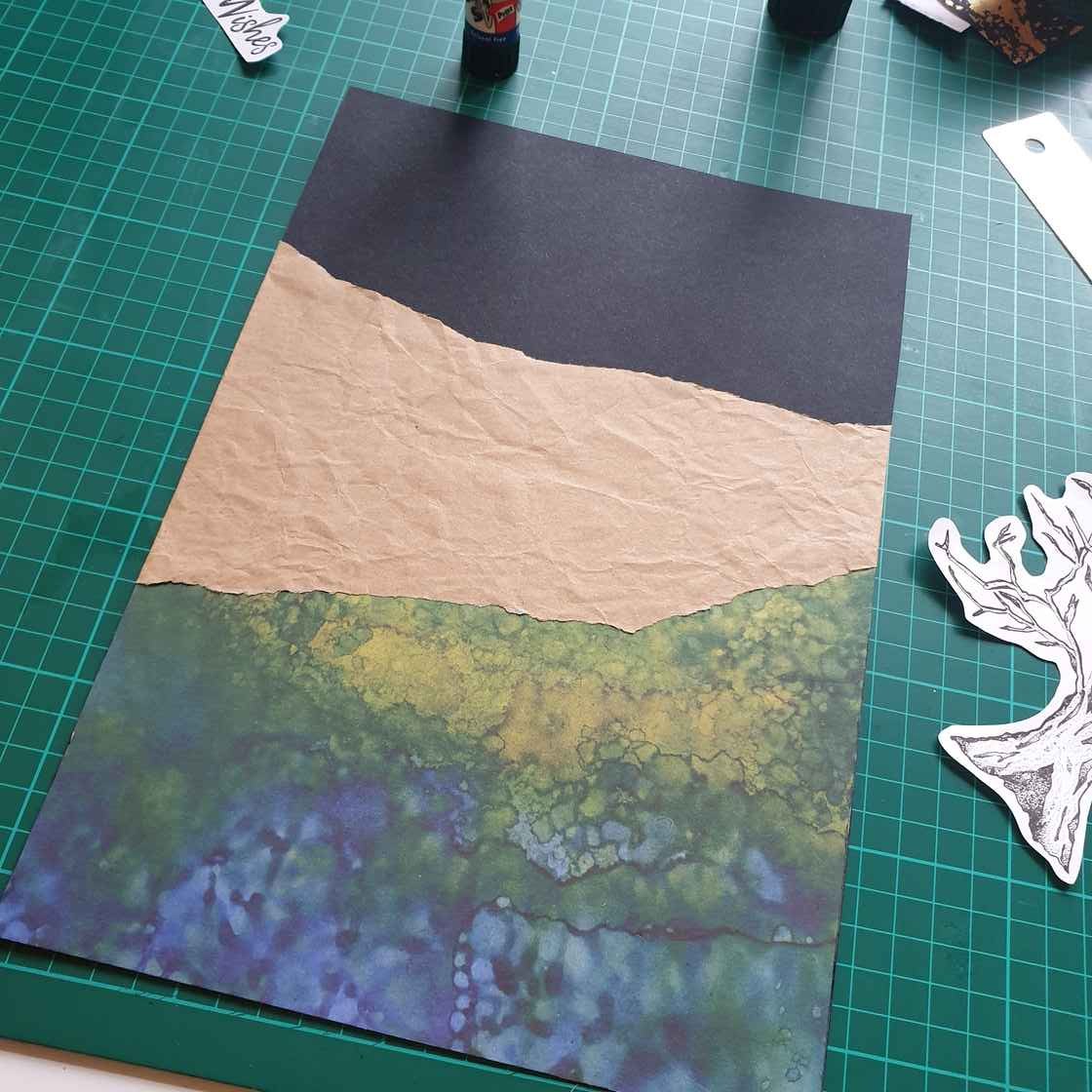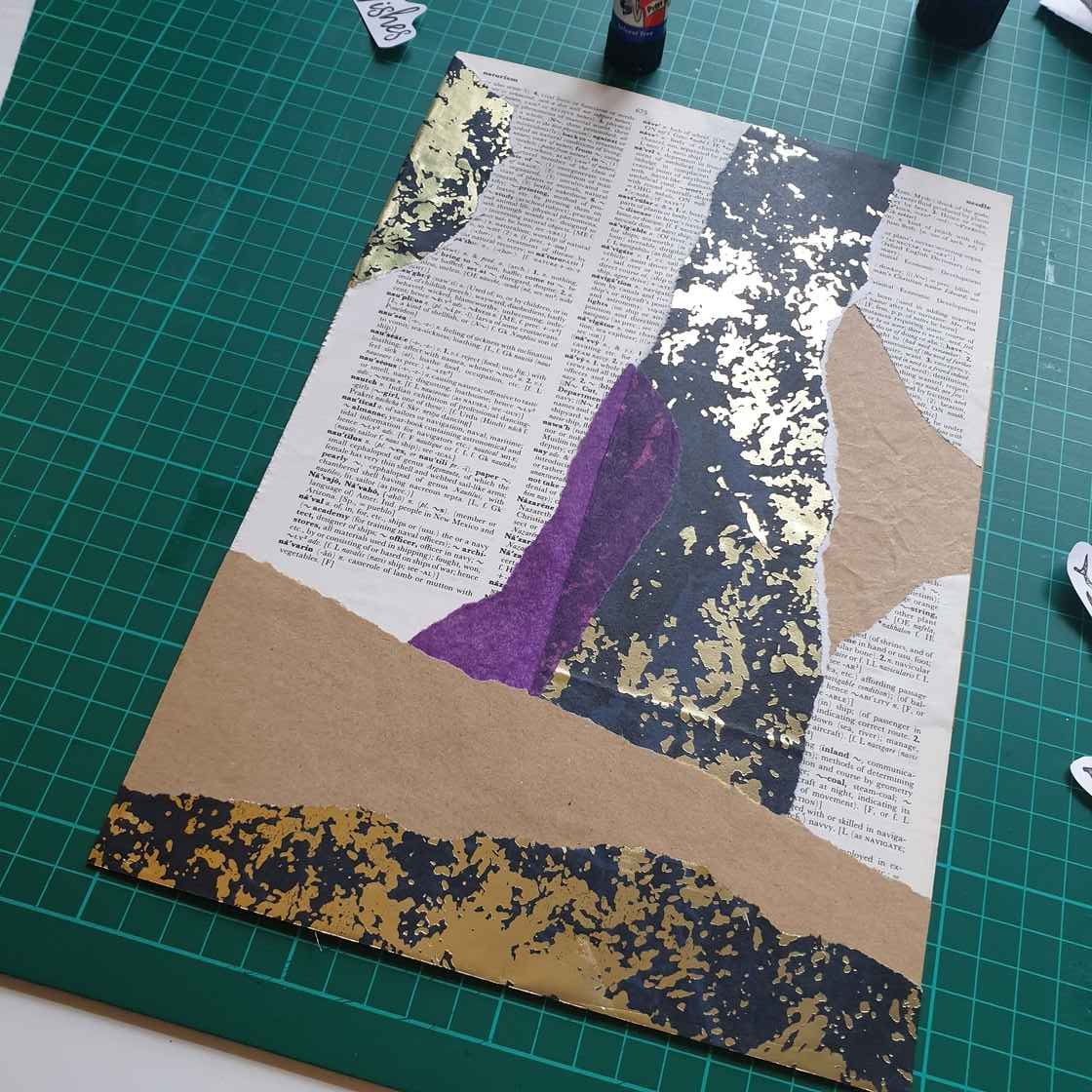 4. Making the Leaves
To make the leaves, cut out some leaves on pretty paper of your choice which are a little bigger than the leaves in the printable.
Score along the centre from point to point with some scissors to help you nip the leaf into shape.
Fold up one end and glue in place just at the tip to form the leaf. This tip can then be used to fix the leaf to the tree
5. Fix the tree cut out in place and add your leaves.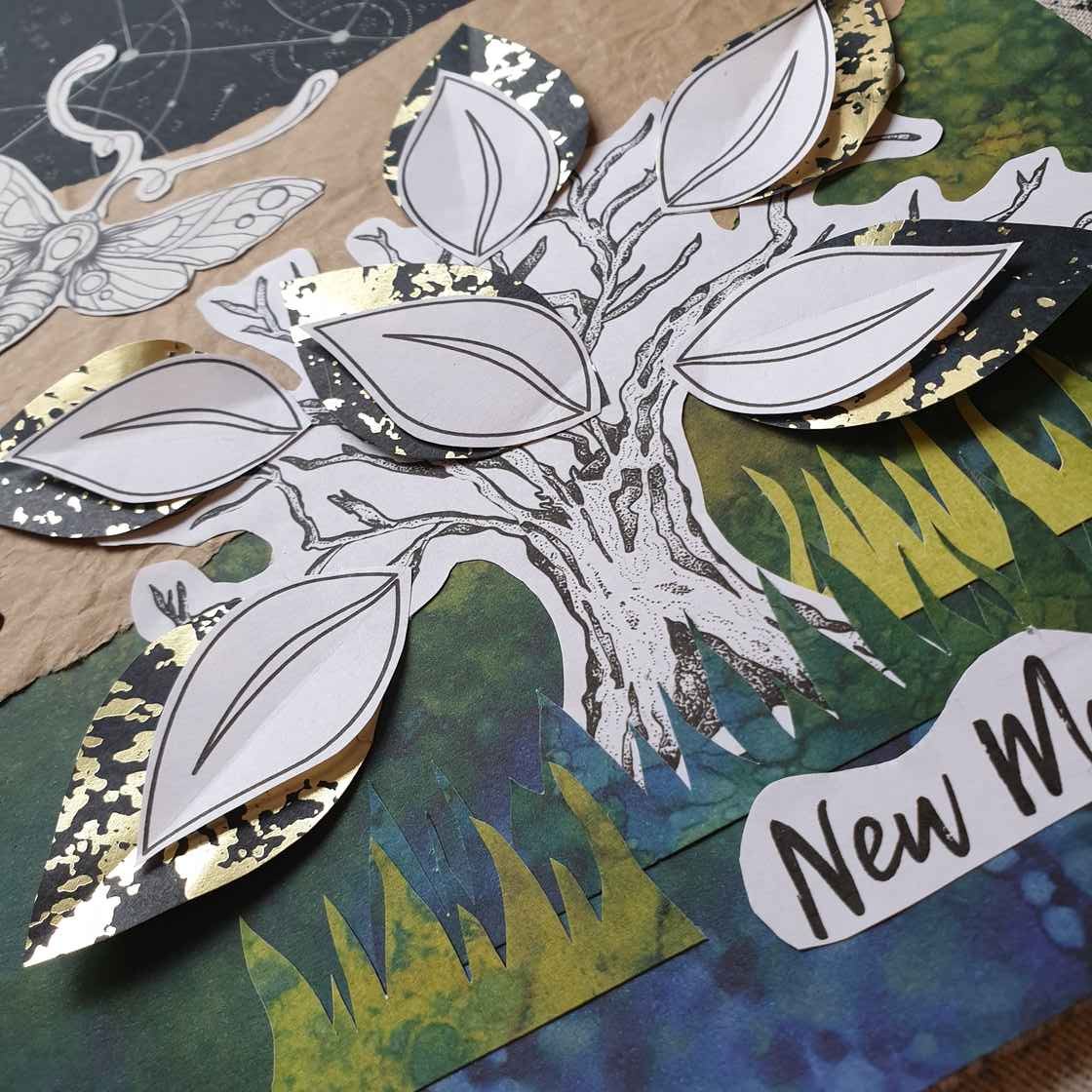 6. Continue to add any decoration or embellishments to make it your own. Really let your imagination take control here and enjoy the process.
I've added grass to the bottom of my tree from cut out green paper. A moth cut our from a colouring book. And some cosmic geometry drawings to make up the sky.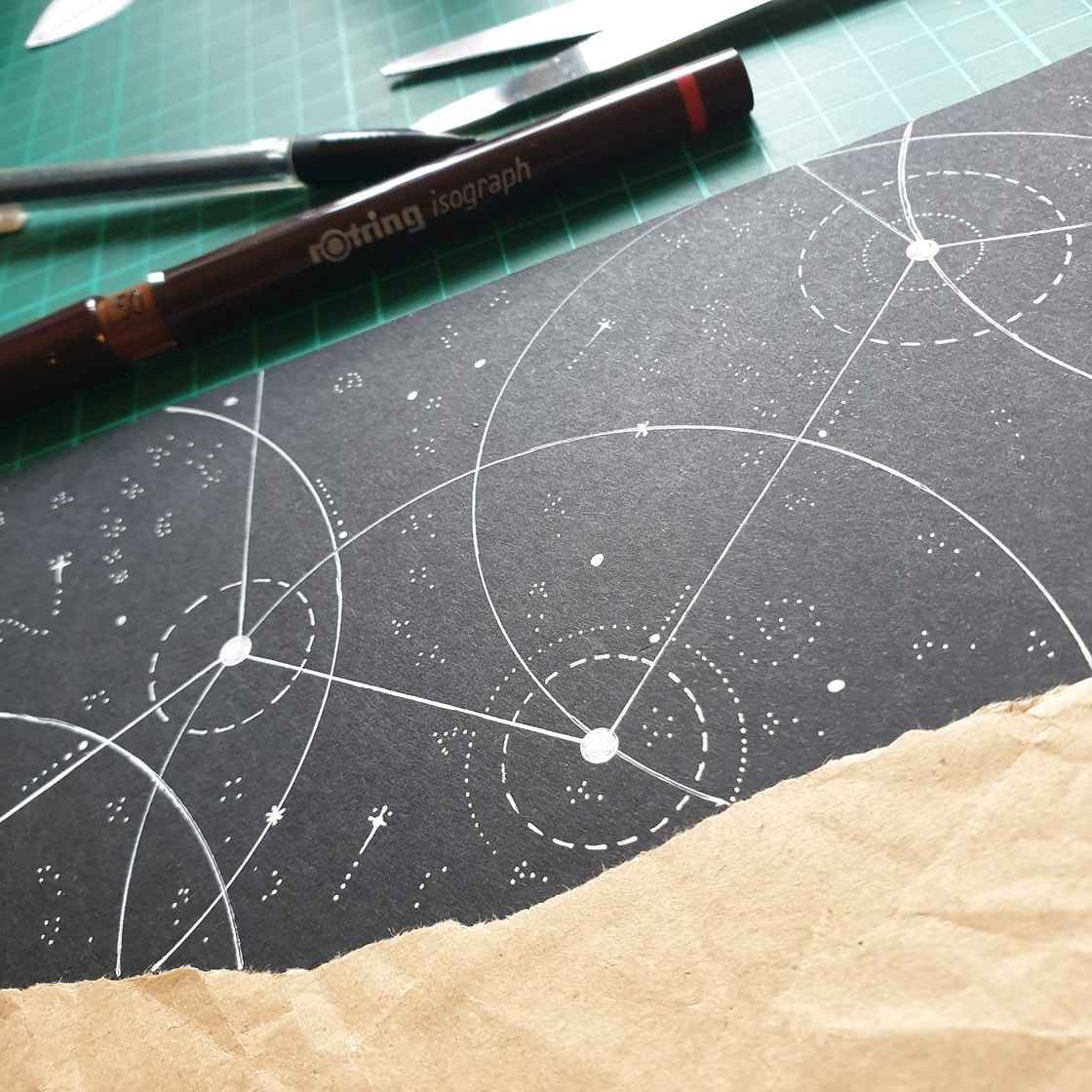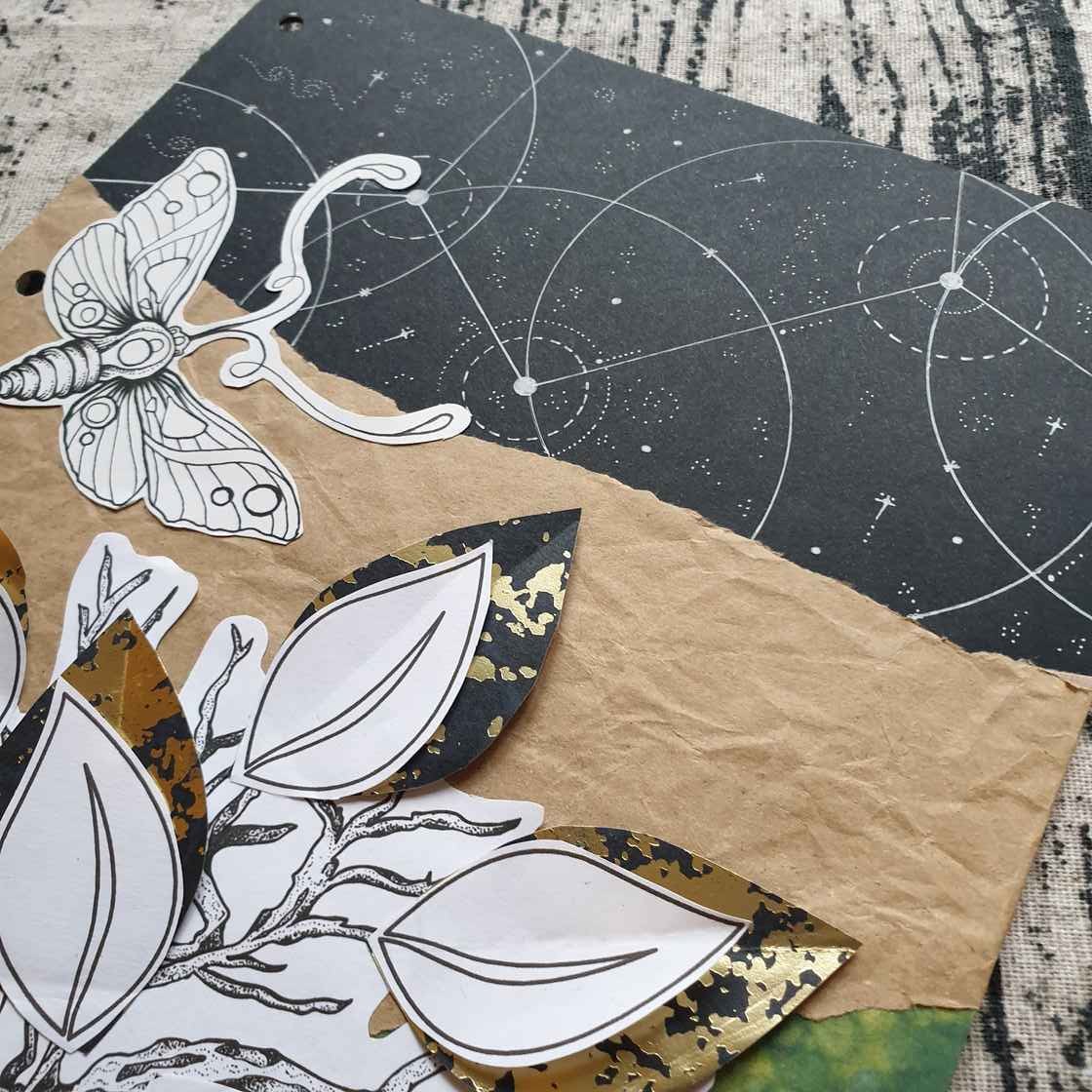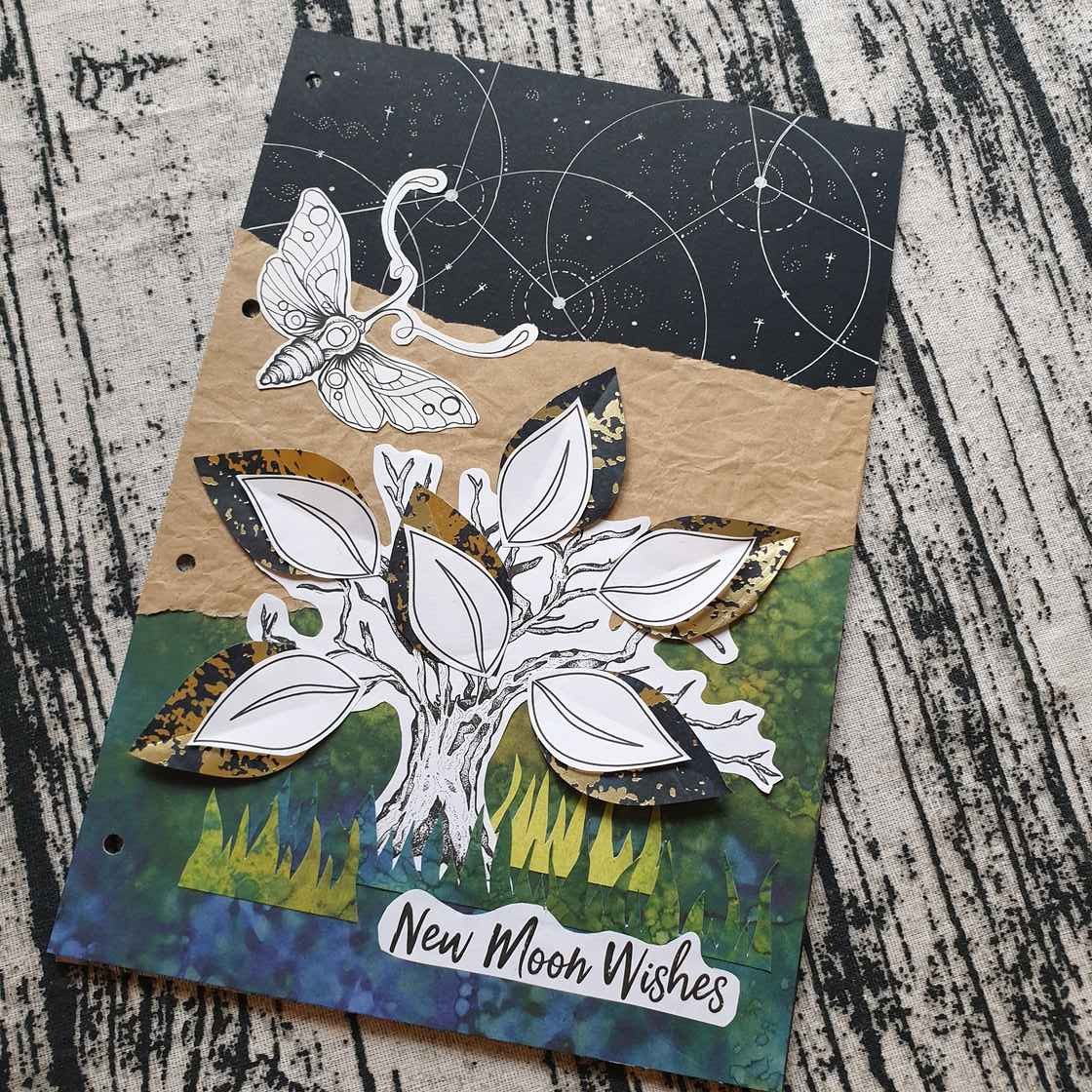 If you enjoyed this then you're going to love….
Join Lunar Witchcraft Creative Journaling Online Programme
We start on 7th October and you can find out more by clicking the image below or clicking >>here<<